VACCELERATE is a clinical research network for the coordination and conduct of COVID-19 vaccine trials. The network is comprised of academic institutions from all over Europe: The consortium is led by the University Hospital Cologne, Germany, and currently includes 31 national partners in 18 EU-member states and 5 countries associated to the EU Horizon 2020 research programme.
VACCELERATE is funded by the European Commission's activities for future pandemic preparedness, the HERA Incubator, an instrument that was created in analogy to the United States' BARDA.
VACCELERATE offers expertise, services, resources and solutions to speed up existing and upcoming development programmes as well as market authorisations for new vaccines and vaccination strategies. The network serves as a single entry-point for all stakeholders in COVID-19 vaccine development (pharma, academia, European Commission, EMA, ECDC, national health authorities and others) for phase 2 and 3 trials in Europe. The network will address any research question of interest, such as vaccine efficacy in virus variants, trials in children, pregnant women, immuno-compromised patients, trials on combination of different vaccines etc. The establishment of a European Volunteer Registry for vaccine trials provides fast and efficient recruitment of trial participants (>107,000 volunteers in 22 countries: Austria, Belgium, Cyprus, Czech Republic, France, Germany, Greece, Hungary, Ireland, Israel, Italy, Lithuania, Netherlands, Norway, Poland, Spain, Sweden, Switzerland, Turkey, United Kingdom, Ukraine, expansion to more countries ongoing).
VACCELERATE conducts capacity mapping of new clinical trial sites and laboratories with standardised methods and protocols, and provides standardised educational measures, training and quality management for harmonised vaccine trials. It already holds information on 491 clinical trial sites in 39 European countries. For details see the VACCELERATE Site Network. Harmonisation of data acquisition across all network sites enables open data exchange for valid data analysis.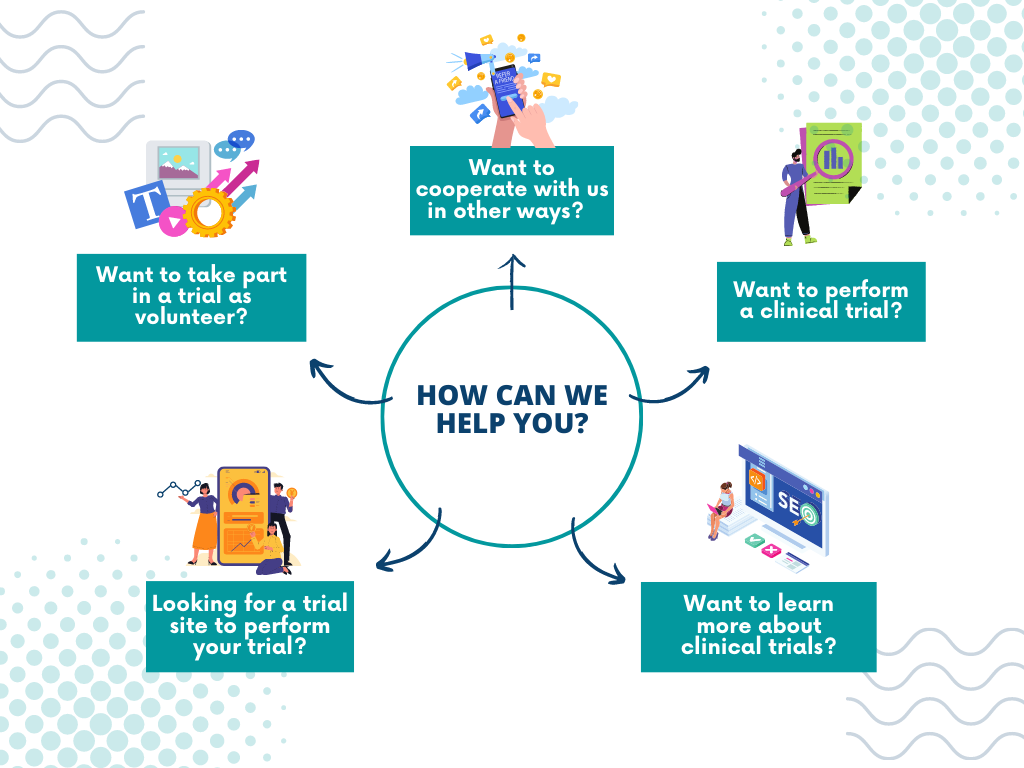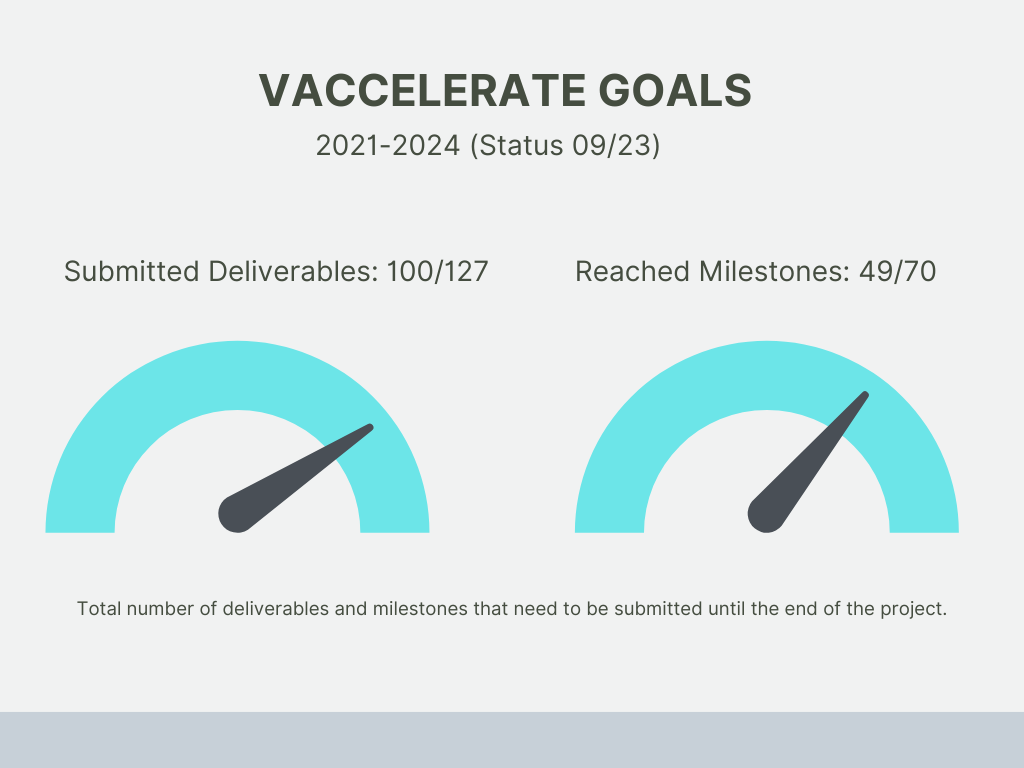 Objective 1 - PLATFORM BUILDING
To provide the central platform serving as single entry-point for European stakeholders in vaccine development, by:
1. Establishing a consortium of vaccine development and clinical research excellence, with decision-making and communication structures identifying needs & delivering answers and solutions to stakeholders; and
2. Offering an open strategic forum for stakeholders from industry, SME, academia, EC, member states and public health authorities.
Objective 2 - CAPACITY MAPPING
To build and expand a network of capable clinical trial sites and laboratories prepared to kick-start high quality phase 2 & 3 COVID-19 vaccine clinical trials in EU-member states and associated countries.
Objective 3 - CAPACITY BUILDING
To ensure highest-quality data output for phase 2 & 3 vaccine trials by providing educational measures to clinical trial sites and laboratories.
Objective 4 - VOLUNTEER REGISTRY
To provide access to clinical trial participants by establishing a registry for individuals volunteering to participate in phase 2 & 3 COVID-19 vaccine clinical trials.
Objective 5 - LABORATORY ACCESS
To provide access to laboratory sites in Europe offering a comprehensive, standardised set of methods essential to phase 2 & 3 vaccine clinical trials.
Objective 6 -

SOLUTIONS FOR VACCINE DEVELOPMENT
Providing solutions for characteristic vaccine development issues during pandemics. To close gaps in public health knowledge on COVID-19 vaccines, and to improve knowledge transfer by providing access to harmonised data, protocols and assays that will speed up vaccine development and serve as blueprints for future pandemic preparedness.
Objective 7 -

PHASE 2 AND 3 CLINICAL TRIALS
To answer public health questions on COVID-19 vaccines that are unlikely to be addressed by vaccine developers, or in specific and as of yet under-represented populations and target groups.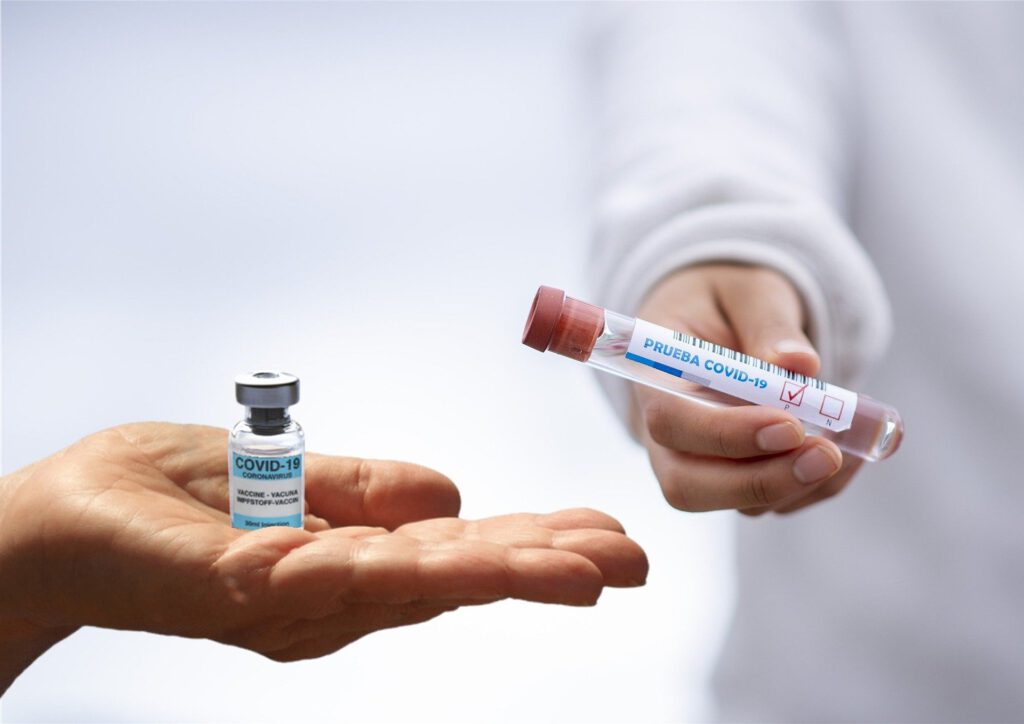 EU-COVAT-1 AGED: A Multinational, Phase 2, Randomised, Adaptive Protocol to Evaluate Immunogenicity and Reactogenicity of Different COVID-19 Vaccines Administration in Older Adults (≥75) Already Vaccinated Against SARS-CoV-2
EU-COVAT-2 BOOSTAVAC: An International Multicentre, Phase 2, Randomised, Adaptive Protocol to Determine the Need for, Optimal Timing of and Immunogenicity of Administering a 4th Homologous mRNA Vaccination Dose against SARS-CoV-2 in the General Population (18+ years) Already Vaccinated with the BNT162b2 Vaccine
EU-COVPT-1 COVACC: A Phase 2, Comparative Randomised Trial to Evaluate the Impact of Reduced COVID‐19 mRNA Vaccination Regimen on Immunological Responses and Reactogenicity in Paediatric Subjects with Prior SARS‐CoV‐2 Immunity  
Visit "Volunteers" for more information on the VACCELERATE Studies. 
VACCELERATE Work Packages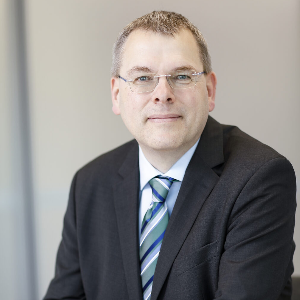 WP3 – Project Management & Network Coordination
Work package objectives:
WP3 comprises all managerial and coordinative activities that ensure VACCELERATE meets its self-defined six objectives and overall ambition. WP3 will ensure a swift implementation of structures and operational procedures required for successful management of the overall project, and ensures implementation of specific communication structures and procedures for coordinated management of stakeholder requests within the VACCELERATE network. WP3 guarantees that the VACCELERATE core principles of speed, inclusiveness and transparency are embraced throughout the project. The team of WP3 oversees risks with the potential to impact VACCELERATE and develops mitigation plans, within the scope of pandemic developments.
WP Lead & VACCELERATE Coordinator:
Prof. Oliver A. Cornely, MD
CECAD Cluster of Excellence University of Cologne, Center for Clinical Trials 
University Hospital Dep. I for Internal Medicine, Division of Infectious Diseases 
University Hospital, Cologne, Germany