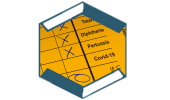 VACCELERATE Volunteer Registry: What we do
We are the European research network VACCELERATE, which is coordinated by the University Hospital Cologne in Germany.
We want to make a contribution and form a connection so that people interested in clinical trials (e.g. COVID-19 vaccination studies) and organisers of clinical trials can get in touch more quickly.
We have set up a database ("Volunteer Registry") in which you can register if you are generally interested in participating in a COVID-19 vaccination study or another clinical trial. Our database is intended for interested people of all ages, with and without pre-existing conditions, with and without COVID-19 vaccination. Minors can be registered by their legal guardians.
This database for individuals interested in clinical studies (hereinafter "Volunteer Registry") was reviewed and approved by the Ethics Committee of the Medical Faculty of the University of Cologne.
The University Hospital Cologne works on behalf of the German Centre for Infection Research (DZIF).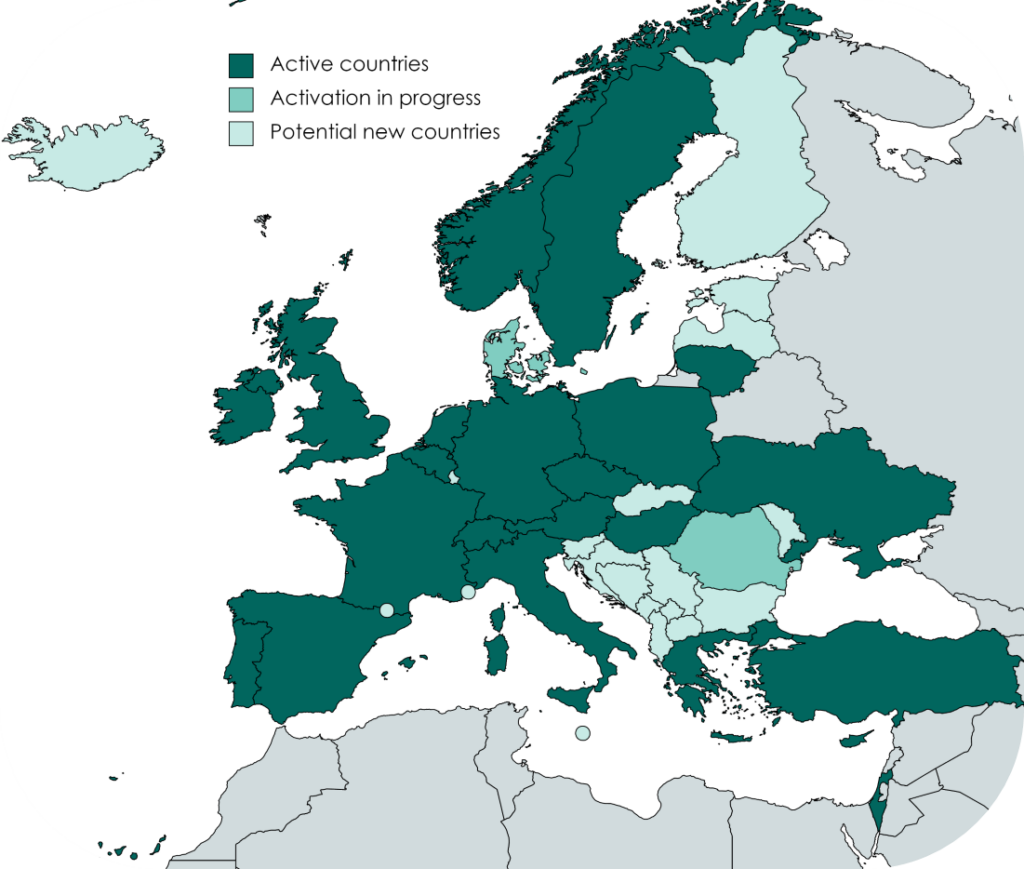 The Volunteer Registry is available in 22 countries and in several local languages. More countries are joining. More than 106,000 volunteers already registered.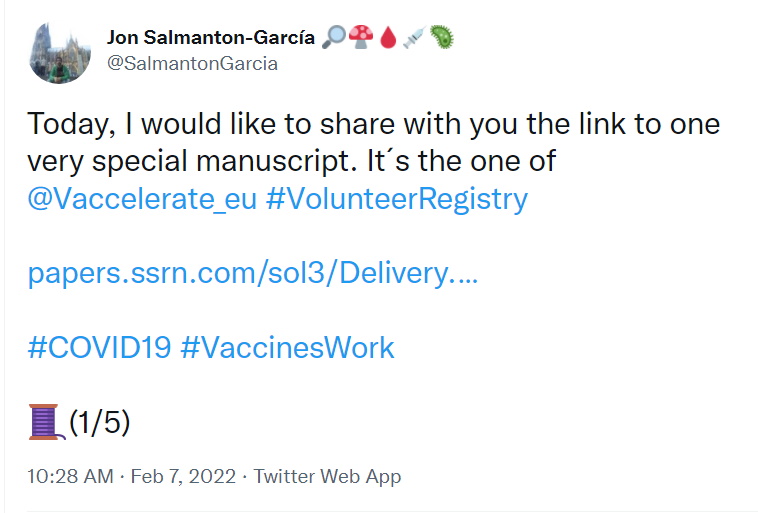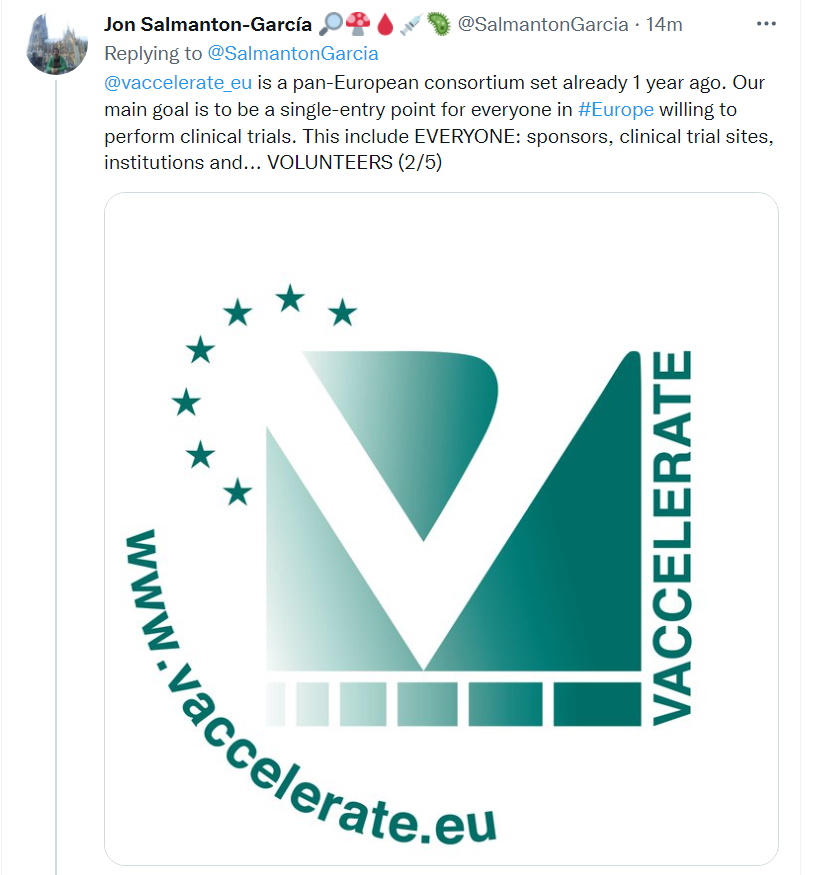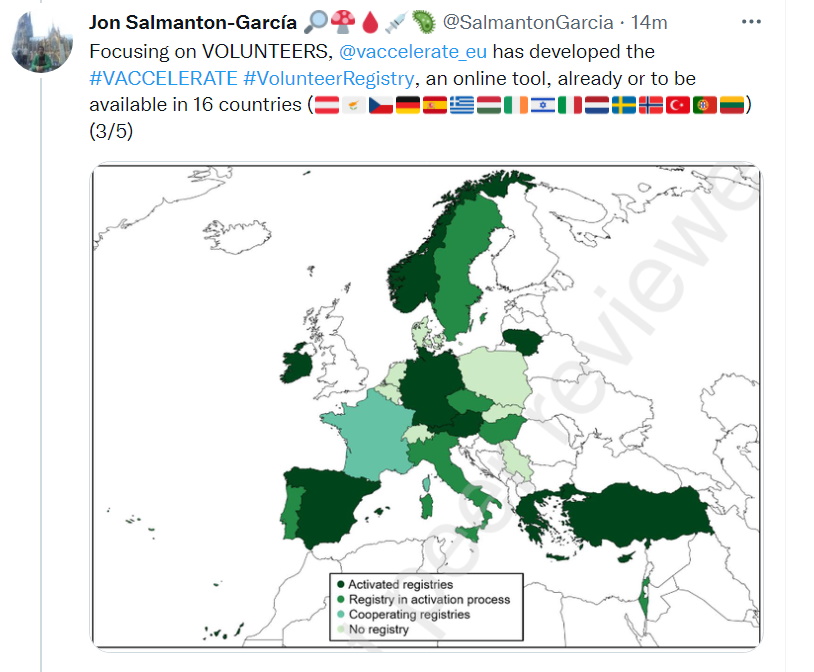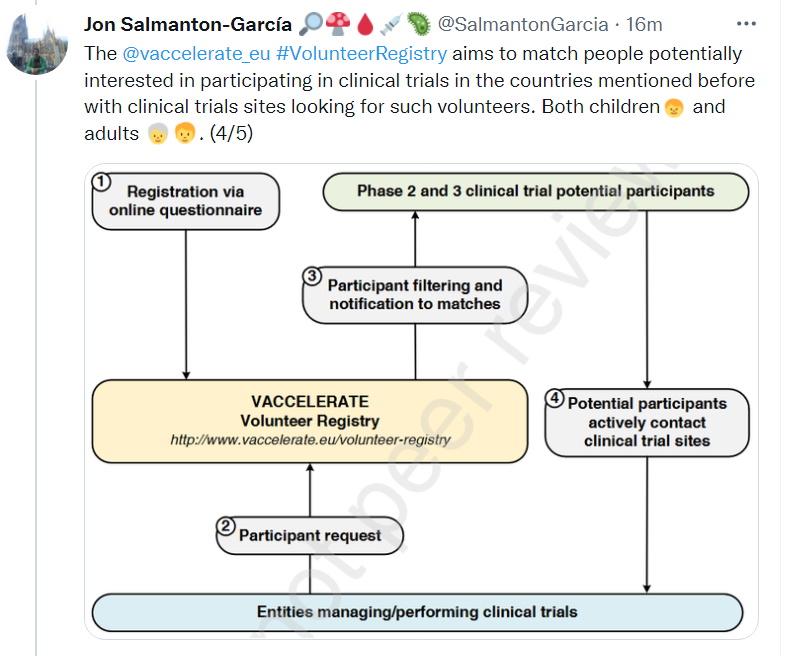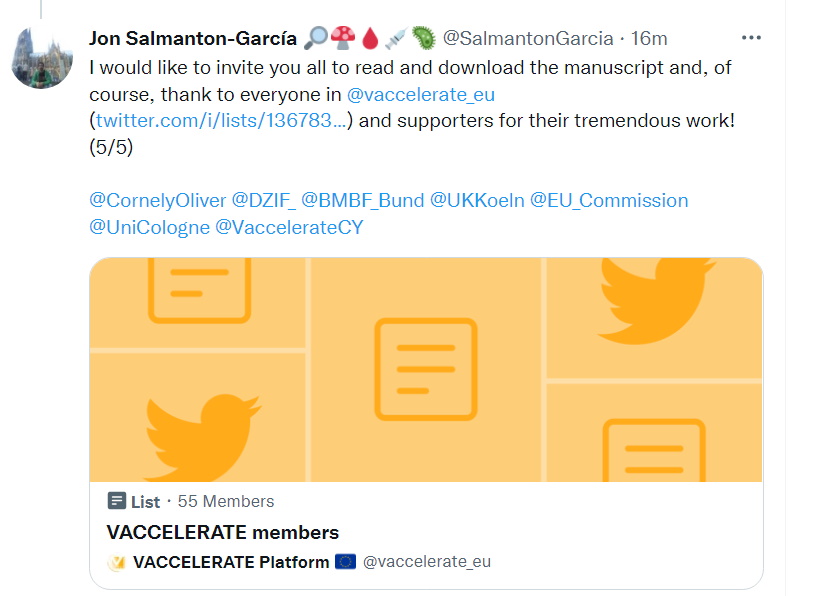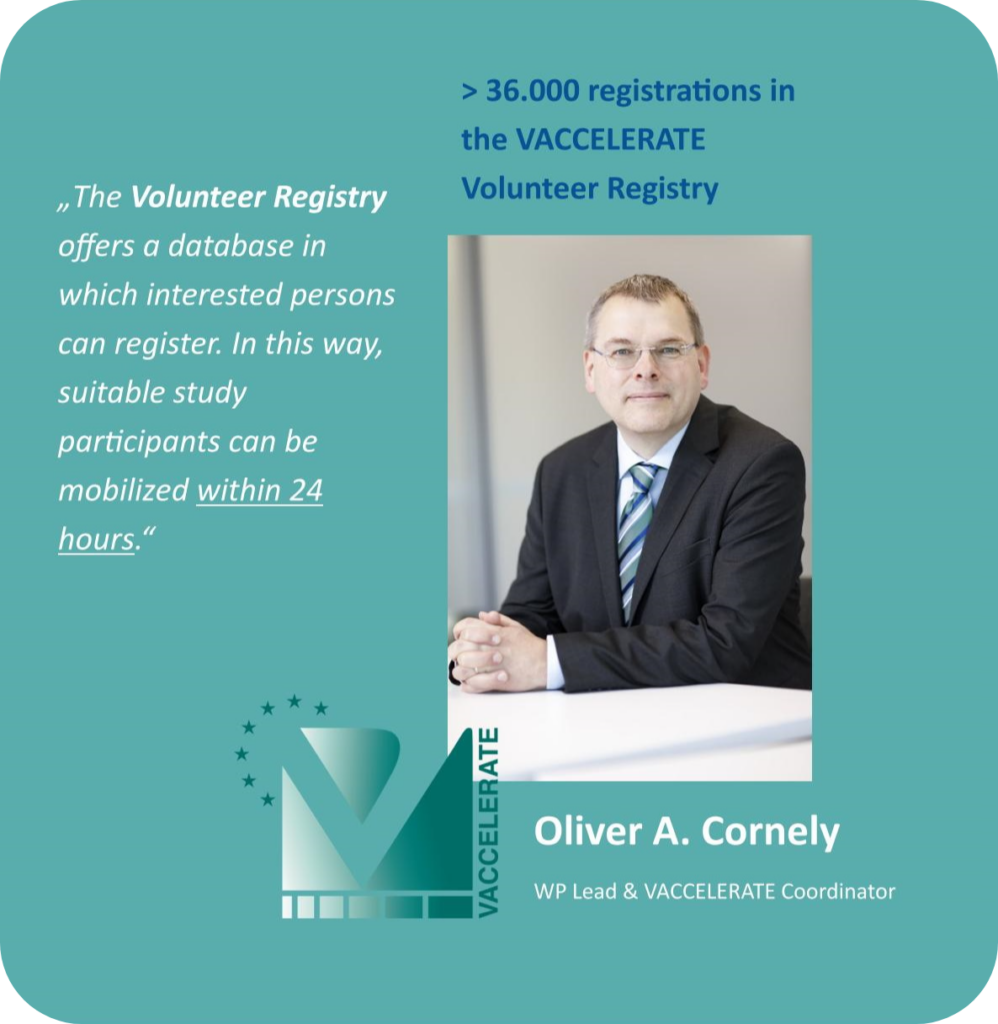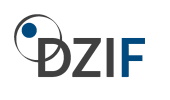 You can register yourself or your minor child in our Volunteer Registry and enter a limited amount of data, among others, regarding health, age and gender. Based on the provided data, we will create a profile. Using this profile, we will be able to find potential clinical studies for you. For example, COVID-19 vaccination studies that are being conducted in your area or vaccination studies that are appropriate for you if, for example, you have certain pre-existing conditions. We will not share the data you have entrusted to us with third parties.
If future clinical studies (e.g. COVID-19 vaccine clinical trials) fit your profile, we will contact you via email and provide you with the contact details of the organizers of these studies. Since we do not share your information with third parties, it is up to you to decide whether you would like to contact the organizers of a clinical study and receive more information about that trial. COVID-19 vaccination studies and other clinical trials are organized by university hospitals, research-based pharmaceutical companies or other institutions or facilities. If you decide to participate in a study, the responsibility for the conduct of the study lies with the respective study team.
Two months after we have presented you with a clinical study, we will contact you via email and ask you to answer a few follow-up questions. Your participation in this follow-up survey is voluntary and independent of whether you have decided to participate in the study or not. You may also participate in the follow-up survey anonymously.
By registering in our Volunteer Registry you do not commit to anything. You can withdraw your registration at any time and the data you entered will be deleted. And most importantly: under no circumstances will we pass your data on to any third party!
Please understand, due to limited resources we are unable to answer enquiries about ongoing studies. This means: If you do not hear from us, we do not have a study for you at the moment.
We would be pleased if you would register yourself and/ or your minor child in our Volunteer Registry. Or even better: if you also draw the attention of your family, friends or e.g. work colleagues to our Volunteer Registry.
Thank you very much for your interest and stay healthy!
Volunteer Registry Videos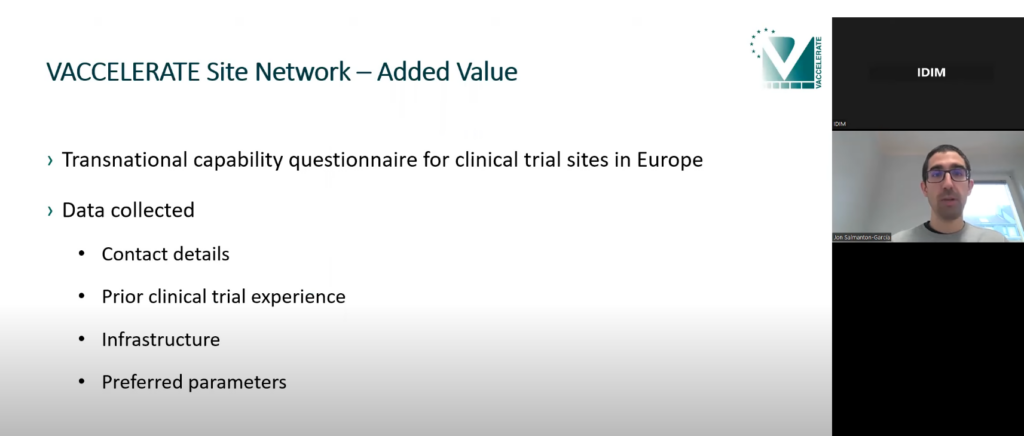 Work Package Leads & National Coordinators 2022
This video provides information on VACCELERATE, especially on the Work Package Leads and National Coordinators who are introducing themselves with short statements: https://www.youtube.com/watch?v=cRSMqdysers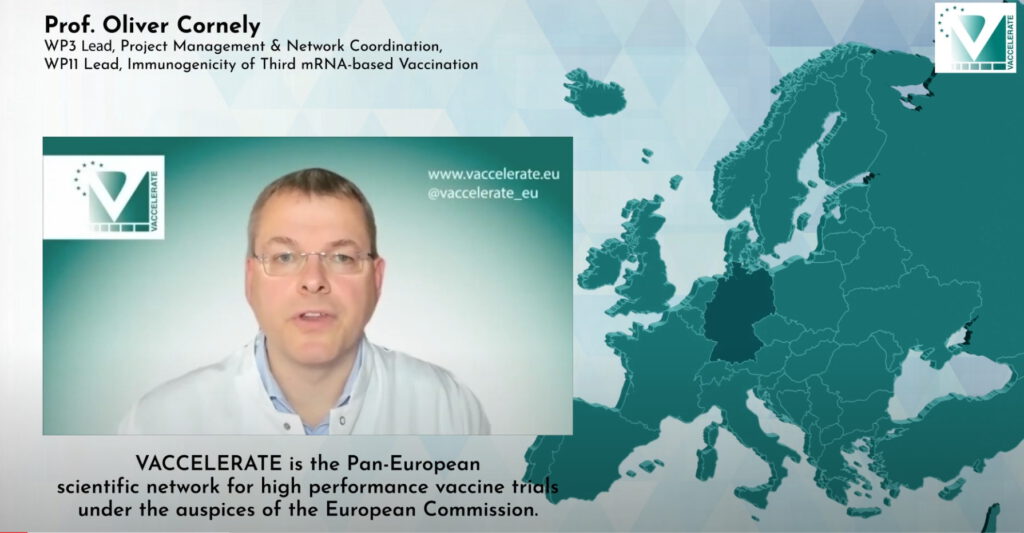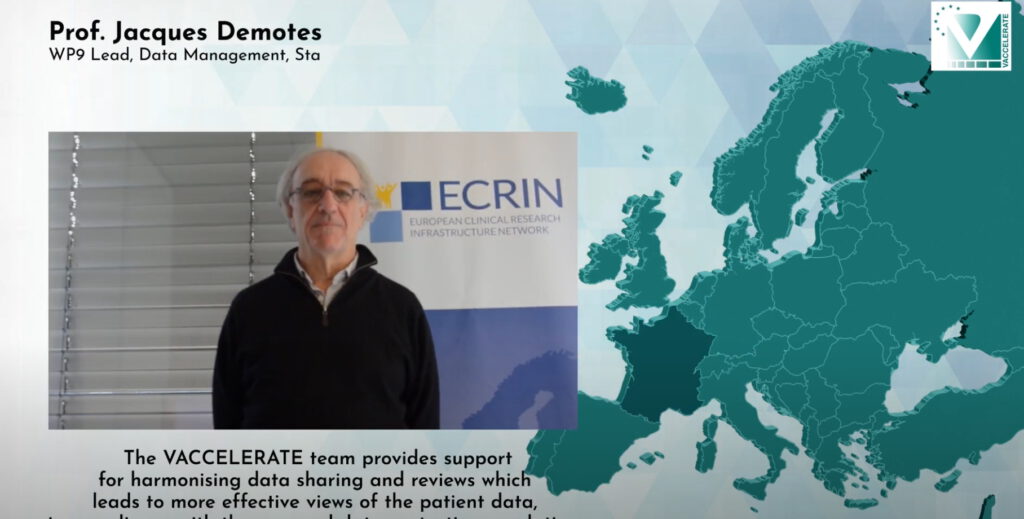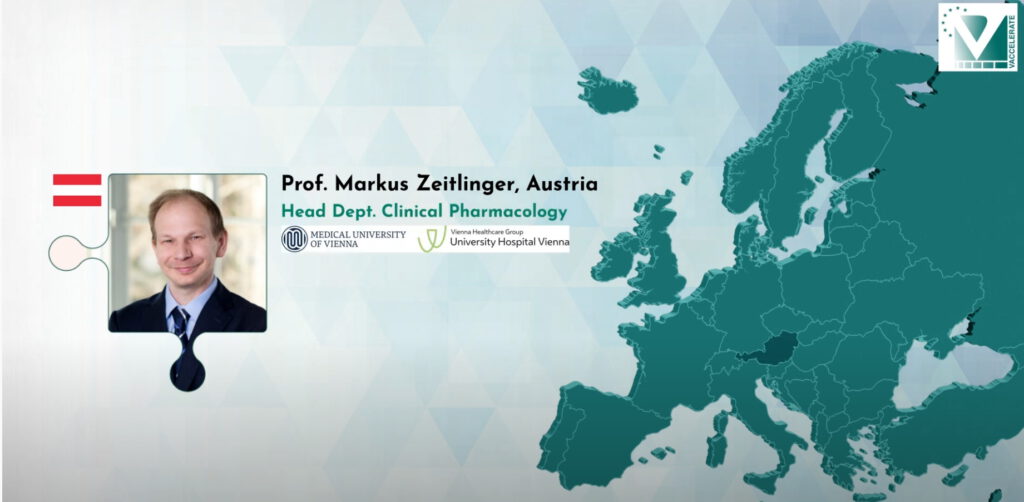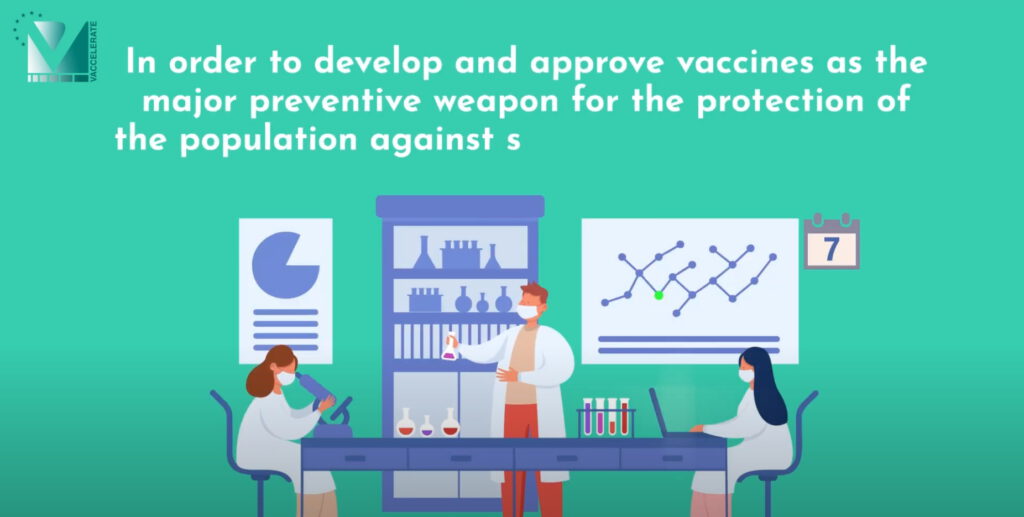 VACCELERATE Video for Children (English)
A VACCELERATE video especially for children, explaining the process of clinical trials, the development of vaccines and the role of volunteers: https://www.youtube.com/watch?v=YZqPSe-YyxY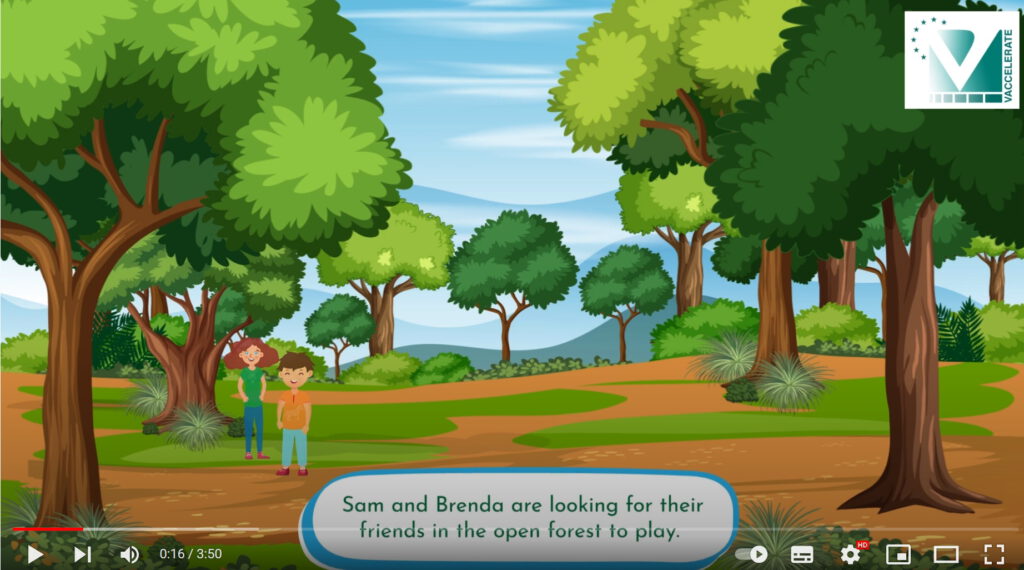 VACCELERATE Video für Kinder (German)
Ein VACCELERATE Video speziell für Kinder, das den Prozess klinischer Studien, die Impfstoffentwicklung und die Rolle von Probanden erklärt: https://www.youtube.com/watch?v=wJIu-s3xhbE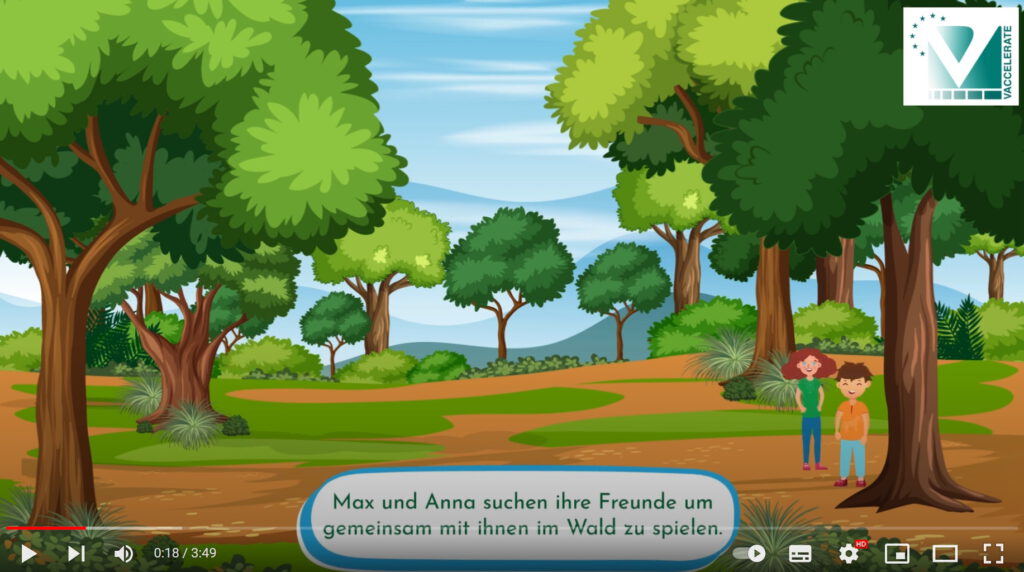 VACCELERATE Vídeo para niños (Spanish)
Un vídeo de VACCELERATE especialmente dirigido a los niños, en el que se explica el proceso de los ensayos clínicos, el desarrollo de las vacunas y el papel de los voluntarios: https://www.youtube.com/watch?v=F7ifeVfUIjY&t=1s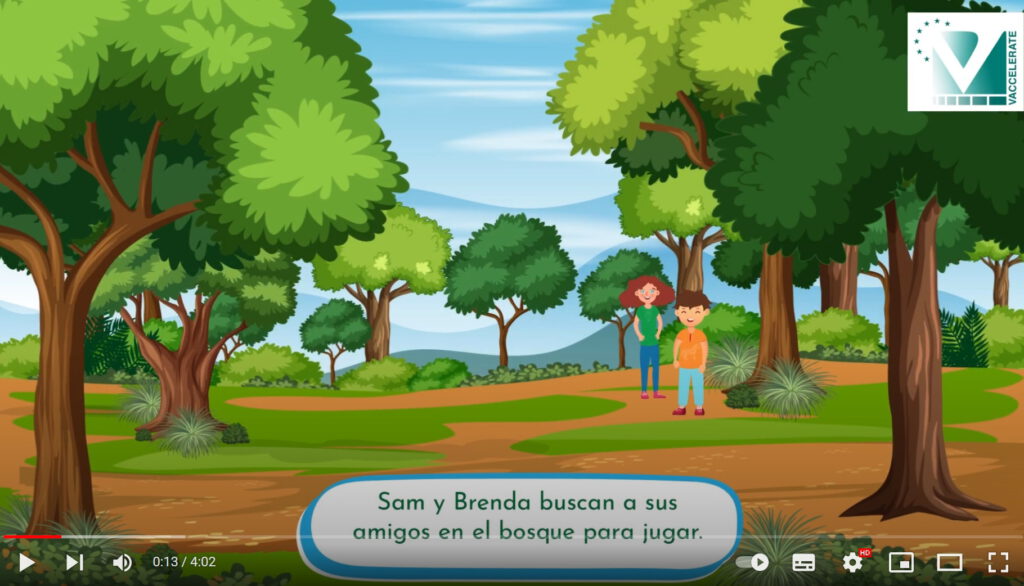 VACCELERATE Βίντεο για παιδιά (Greek)
Ένα βίντεο VACCELERATE ειδικά για παιδιά, που εξηγεί τη διαδικασία των κλινικών δοκιμών, την ανάπτυξη των εμβολίων και το ρόλο των εθελοντών: https://www.youtube.com/watch?v=yn9rtQqKPUg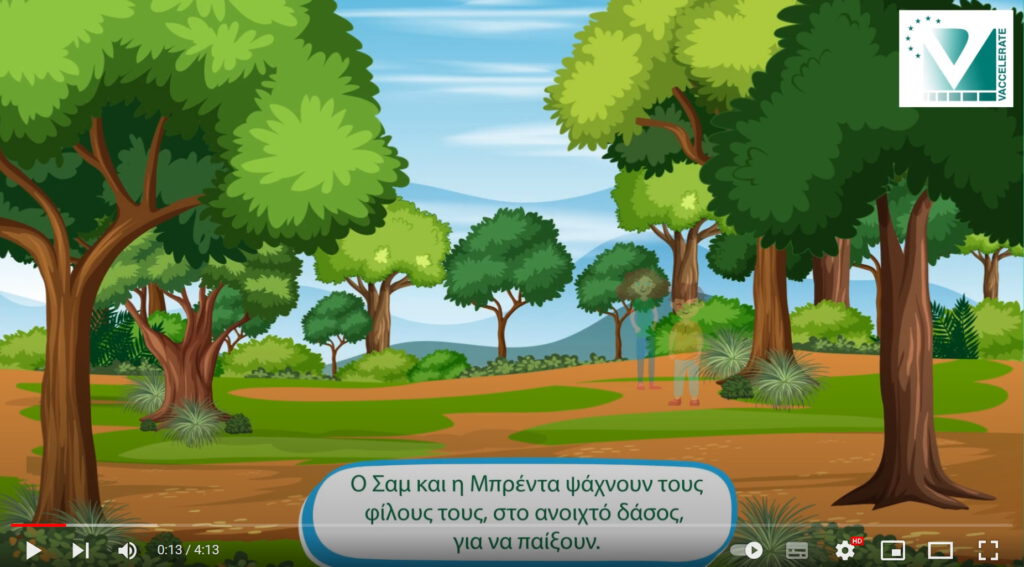 Helena Hervius Askling, Senior Physician in Infectious Diseases who is part of the project group for Vaccelerate, tells us more about Vaccelerate.
"If you are concerned that we can manufacture safe and effective vaccines in the future and prevent pandemics, then you should register for the register," she says.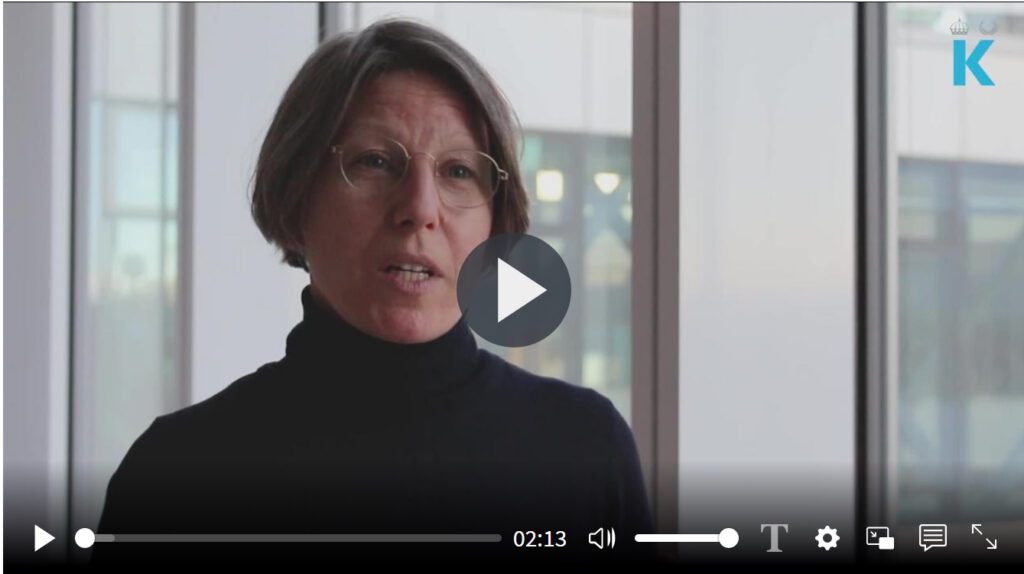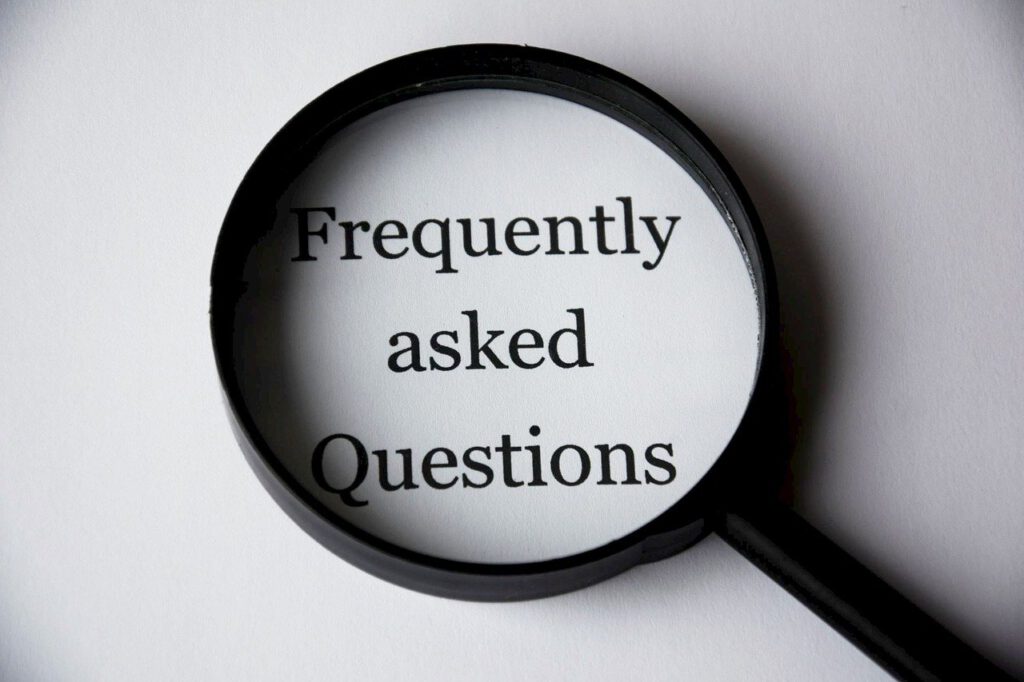 FAQ: Frequently Asked Questions
WHICH INFORMATION IS COLLECTED?
You provide your name, Email address, sex, year of birth, willingness to travel to study site, previous COVID-19 infection, and other relevant underlying conditions.
WHY AM I ASKED ABOUT UNDERLYING CONDITIONS?
This information is relevant as depending on the vaccination study the target population might be different. This information will exclusively be used for the purpose of identifying eligible persons for the respective study. Only team members of the University Hospital Cologne have access to this information. These will at no time be passed on to unauthorized persons.
ARE MY DATA SECURE?
Your data will be stored in the server of Questback, company based in Cologne, NRW. Data are not accessible by third parties at any time or for other purposes than the here provided service.
HOW WILL I BE INFORMED ABOUT VACCINATION STUDIES?
You will be informed by the team of the University Hospital Cologne about upcoming and ongoing vaccination studies via the Email that was provided by you in the registration form. You decide whether you would like to contact the company directly for further information and participation.
WHAT IF I DO NOT WANT TO PARTICIPATE IN THE VACCINATION STUDY I WAS JUST INFORMED ABOUT?
There is no obligation to participate in any study at any time. You will simply be informed by us about the studies for which you might be eligible to participate. The institution running the study will not receive any data from us about you. Vice versa we will not receive any information from the investigators whether you have expressed interest in participating in the study. Only you decide to get in touch with the investigators.
WHAT IF I DO NOT WANT TO RECEIVE NOTIFICATIONS ABOUT VACCINATION STUDIES PER E-MAIL ANYMORE?
In case you changed your mind and would like to withdraw your consent to get contacted by us about upcoming vaccination studies, please contact corona-impfstudien [at] uk-koeln.de. Your data entered at registration will be permanently deleted. You can only receive future notice about upcoming vaccination studies if you register again.
CAN I REGISTER ALTHOUGH I AM ALREADY EXPOSED TO CORONA VIRUS? 
Of course, you can. There is no restriction for registrations. The registration is open for all citizens. If a study suitable for you is being planned, and your profile matches to the study requirements, you will be contacted.
CAN I REGISTER ALTHOUGH I AM NOT VACCINATED YET? 
Of course, you can. There is no restriction for registrations. The registration is open for all citizens. If a study suitable for you is being planned, and your profile matches to the study requirements, you will be contacted.
IS IT DANGEROUS FOR ME TO PARTICIPATE IN CLINICAL TRIALS? 
There are very strict GCP (Good Clinical Practice) rules for setting up clinical trials to guarantee the safety of the volunteers. There need to be enough data proving the security of the study and also the ethics committee needs to approve it first.
WHY SHOULD I REGISTER AND TAKE PART IN CLINICAL TRIALS? 
Without volunteers no new treatment, medication or vaccine is made available for all of us. If you volunteer, you are part of the newest research and supporting modern science. You are monitored regularly by medical staff and you might also have access to testing options and  treatments that you would not get otherwise.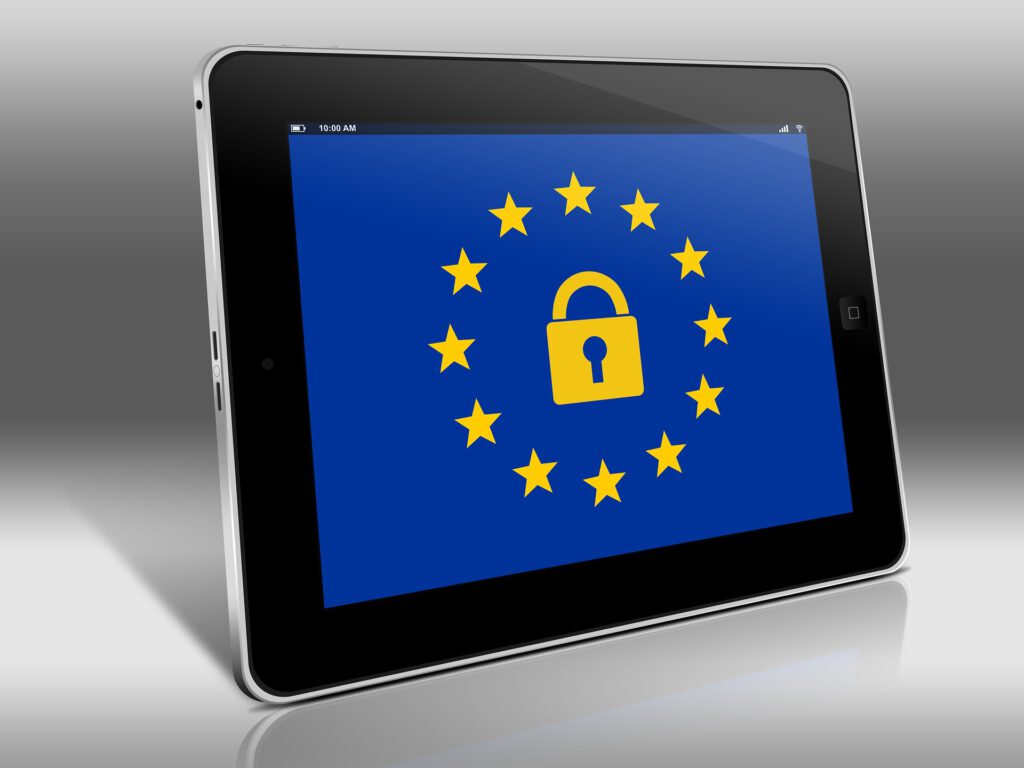 Legal Information / Disclaimer
The protection of personal data and thus of your privacy is of utmost relevance to the University Hospital Cologne. We would therefore like to inform you about how we use and protect your data. It goes without saying that the University Hospital Cologne complies with all legal provisions on data protection in order to guarantee you the greatest possible protection of your privacy.
Please read the following information on data protection in accordance with article 13 of the EU General Data Protection Regulation (GDPR) carefully. Your registration in the database is voluntary. You can withdraw your consent to registration in the database at any time without giving reasons and without incurring any disadvantages.
PURPOSE OF DATA STORAGE AND PROCESSING
Registration in the database serves the purpose of communication with interested citizens regarding studies on active or passive immunisation ("vaccination studies") against SARS-CoV-2 ("coronavirus") in the context of the COVID-19 pandemic. The data you provide will be used to contact you and inform you about available studies. Your health information will enable us to present you with studies that may be of interest to you, as individually and specifically as possible.
Therefore, please enter your data with great care. Your data will only be processed by selected employees of the University Hospital Cologne. Contact will be established exclusively by employees of the University Hospital Cologne, and your data will not be passed on to third parties.
LEGAL BASIS
Art. 9 Paragraph 2 j) GDPR for scientific research purposes
STORAGE PERIOD
The personal data will be deleted in conformity with data protection regulations after a storage period of max. 10 years.
YOU HAVE THE RIGHT TO
– Withdraw in accordance with article 7 GDPR (e-mail to corona-impfstudien@uk-koeln.de)
– Access in accordance with article 15 GDPR
– Rectification in accordance with article 16 GDPR
– Erase in accordance with article 17 GDPR
– Restriction of processing in accordance with article 18 GDPR
– Data portability in accordance with article 20 GDPR
– Object in accordance with article 21 GDPR
– Lodge a complaint to a supervisory authority in accordance with article 77 GDPR